Our Logo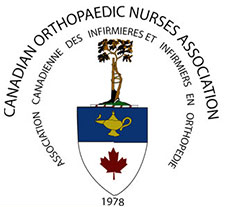 The Shield
The Canadian Orthopaedic Nurses Association shield and crest were designed by Dr. R.B Salter. The essential component of any armorial bearings is the shield. In the lower part of the shield for the Canadian Orthopaedic Nurses Association is depicted the red maple leaf on a white background, the official symbol of Canada. In the upper part of the shield is Florence Nightingale's lamp, which is the internationally accepted symbol of nursing.
The Crest
Resting atop the shield is the crest of the armorial bearings. It consists of the world famous orthopaedic tree that first appeared in the front piece of Nicholas Andry?s book on Orthopaedics published in France in 1749. Indeed, it was Andry who coined the term ?orthopaedic? from the Greek ?orthos? meaning straight and ?paedros? meaning child, the implication being that the goal of orthopaedics is to make the crooked child straight. You will observe that the orthopaedic tree was originally growing crookedly and that it was subsequently tied to a straight splint that enabled the deformity of the tree trunk to be corrected. It is understandable that Nicholas Andry?s tree has become the recognized symbol of orthopaedics throughout the world.
Dr. Robert Bruce Salter (1924-2010)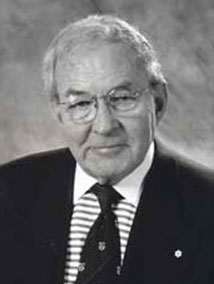 Dr. D.B. Salter was a Canadian surgeon and a pioneer in the field of pediatric orthopaedic surgery.Born in Stratford, Ontario, he graduated in medicine from the University of Toronto in 1947, worked for two years at the Grenfell Medical Mission in Newfoundland, and spent one year as the McLaughlin Fellow in Oxford, England.
Dr. Salter then returned to join the medical staff at the Hospital for Sick Children in Toronto in 1955. He was later was appointed Surgeon-in-Chief.
Dr. Salter developed a procedure to correct congenital dislocation of the hip, pioneered Continuous Passive Motion for the treatment of joint injuries, and co- developed a classification of growth plate injuries in children, commonly known as the Salter-Harris fractures classification system. He also developed the Salter Operation to treat congenital dislocation of hip.
His textbook of orthopaedic surgery, Disorders and Injuries of the Musculoskeletal System, is used throughout the world.
He was made an Officer of the Order of Canada in 1977 and was promoted to Companion in 1997. In 1988, he was awarded the Order of Ontario. In 1995 he was inducted into the Canadian Medical Hall of Fame. He was also a Fellow of the Academy of Science of the Royal Society of Canada, and received the Gairdner Foundation International Award for medical science, the FNG Starr Medal of the Canadian Medical Association and the Bristol-Myers Squibb-Zimmer Award for Distinguished Achievement in Orthopaedic Research.
Dr. Salter designed the Canadian Orthopaedic Nurses Association shield and crest.